All Celebrities

Tens are called "Success" Cards - Fully Accomplished. Pythagoreans say that the number Ten represents Deity, Heaven, Eternity, and the Sun. Ten starts a new cycle - the cycle of man's Aspiration. Ten of Diamonds succeed as Master if Matter. Their domination is over "all created things." The symbol of money and success in finances, Ten of Diamonds has also represented the center of our society, as a replacement for Divine Plan, Receptivity and Intuition.
Learn More
What is Your Birth Card?
Enter your birth day and find out who you are.
Your Destiny: Major Themes
What destiny has in stock for you? Are you a potential millionaire and not know about it? What is your prime motivation in life and how to use to achieve success?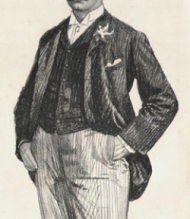 It is always the best policy to speak the truth, unless, of course, you are an exceptionally good liar.
- Jerome K Jerome
People Saying
Wow am in love with this name, I will name my first daughter Shirley.
March 30, 2020 12:30
Love it
March 29, 2020 11:47
Dat is true
March 29, 2020 11:08
Mine is Dec. 18. Also King of Hearts...
March 27, 2020 21:54
my son name is tyron and he is exactly the way this explains
March 27, 2020 17:57
that's a luck for my second baby
March 27, 2020 12:57
Hi
March 23, 2020 6:32
Am glad
March 22, 2020 20:34
My venus is good or bad
March 19, 2020 9:09
I agree!! Very accurate!
March 19, 2020 4:33
Topics
Astrology
Celebrities
Culture
Dating
Destiny Cards
Gossip & Rumors
Lifestyle
Love Compatibility
Marriage
Numerology
Phenomenon
Psychology
Questions & Answers
Relationships
Science & Tech
Society
Useful Tips
World