Ayn Rand

Ayn Rand (Alisa Zinov'yevna Rosenbaum) is known for her two best-selling novels The Fountainhead and Atlas Shrugged and for developing a philosophical system she called Objectivism.

Born and educated in Russia, Rand moved to the United States in 1926. She worked as a screenwriter in Hollywood and had a play produced on Broadway in 1935–1936. After two early novels that were initially less successful, she achieved fame with her 1943 novel The Fountainhead. In 1957, she published her best-known work, the novel Atlas Shrugged. Afterward she turned to nonfiction to promote her philosophy, publishing her own magazines and releasing several collections of essays until her death in 1982.

Rand advocated reason as the only means of acquiring knowledge and rejected all forms of faith and religion. She supported rational and ethical egoism, and rejected ethical altruism. In politics, she condemned the initiation of force as immoral and opposed all forms of collectivism and statism, instead supporting laissez-faire capitalism, which she believed was the only social system that protected individual rights. She promoted romantic realism in art. She was sharply critical of the philosophers and philosophical traditions known to her besides Aristotle.

Birth Card
Birthday: February 2, 1905
Ten of Spades Life Path: 19/10/1 Attitude: 4
"Happiness is that state of consciousness which proceeds from the achievement of one's values."
More
Ayn Rand Quotes
Ten of Spades Quotes
---
What is Your Birth Card?
Enter your birth day and find out who you are.
Your Destiny: Major Themes
What destiny has in stock for you? Are you a potential millionaire and not know about it? What is your prime motivation in life and how to use to achieve success?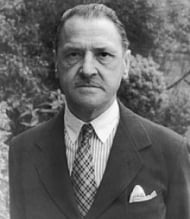 One can be very much in love with a woman without wishing to spend the rest of one's life with her.
- William Somerset Maugham
People Saying
This Really Reflects me
November 19, 2019 23:39
Very true
November 18, 2019 20:07
This is my sister all the way.
November 17, 2019 18:53
This is me
November 13, 2019 20:51
Who is Sandra and also is gemini?
November 12, 2019 20:31
That is so true ,I never love my name until I have read it in the Bible how many times it mention and how important it is.
November 12, 2019 19:58
Yep
November 12, 2019 18:08
This is spot on about me.. Italian meaning of Carolyn is strong and she knows
November 12, 2019 17:16
Wow so true
November 8, 2019 2:02
This takes too long to load after typing up everything.
November 6, 2019 6:29
Topics
Astrology
Celebrities
Culture
Dating
Destiny Cards
Gossip & Rumors
Lifestyle
Love Compatibility
Marriage
Numerology
Phenomenon
Psychology
Questions & Answers
Relationships
Science & Tech
Society
Useful Tips
World