Six of Clubs Karma Cousin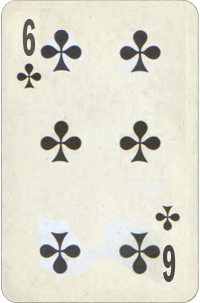 The card of Intuition. Mental balance and peace. Responsibility in speech and communications. Compromises. Karmic debts to pay (for what you've said or promised) in order to achieve mental stability. High side: Awareness of higher purpose in life, sharing knowledge with others.
The only way a woman can ever reform a man is by boring him so completely that he loses all possible interest in life.
- Oscar Wilde
Your Destiny Birth Card