Eight of Spades Karma Card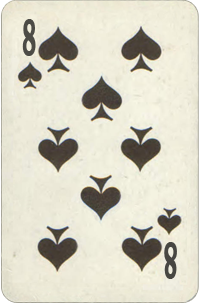 The Eight of Spades represents the power of overcoming, and also a healing card. As the Karma Card, it gives you the ability to take on the responsibility and to work hard with the keen sense of obligation whether or not you know the reason why. But you path is in light, not in labor. You should never overwork, nor drive yourself to the edge. You path requires you to keep your mind clear, active, and aware of all times. The Eight of Spades indicates self-discipline and ability to overcome any obstacles or health-related issues. Order and regulation are important in your life. You are also efficient and could succeed in detailed work, such as chemistry, pharmacology or any science involving experimentation. You are a thinker, quick and perceptive. You dominate groups through your ability to organize and get things done, but you keep all activities running in a practical and efficient manner. You willingly accept responsibility, but you never attempt the impossible. Although aware of your limitations, you are confident that you can overcome obstacles. Through thought and care, you always seem to find a solution. You are trustworthy and responsible, a good neighbor and upright citizen. You want justice to prevail and may participate in community efforts to see that it does.
Generosity is giving more than you can, and pride is taking less than you need.
- Kahlil Gibran
Your Destiny Birth Card