Three of Hearts Karma Card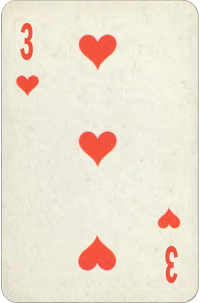 Three of Hearts means creativity or indecision in affection. This card represents a love triangle when one is standing before two choices. A negative 3 does everything in a big way-eating, drinking, loving and living. You can be too self-indulgent, and extravagance could be your downfall. You tend to overact and exaggerate situations, turning mole-hill problems into mountains. Friendships will then be superficial. You may try to avoid responsibility and live just for a moment. Too much talk may make you a gossip. You should learn not to spread yourself too thin, which is a natural trap to fall into, with your many talents and interests.
There is triple Three influence in your Birth Card Spread. It gives the intellectual Queen of Clubs the quality of a quick thinker but can affect your ability to analyze your reactions thoroughly in the fast-moving environment.
All underlying cards in the life spread are in the Hearts suit - the suit of personal relationships, love, and affections. It brings a high focus on love life, which may negatively affect your particular purpose in life - bring clarity, intellectuality to humanity. With the 7 of Hearts in Saturn position, the disappointments and betrayals in love can be a part of life pattern. Trying to control partners will worsen the situation, but cultivating the tolerance and letting others be free indistinct expressions can make your life free of worries, uncertainty, and fears.
"Giving up smoking is the easiest thing in the world. I know because I've done it thousands of times." -

Mark Twain
In topics:
thing
|
world
|
times
|
giving
|
smoking
|
Emperor Quotes
|
Three of Hearts Quotes
|
---