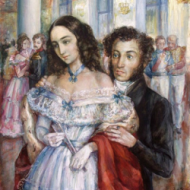 Natalia Goncharova
and
Alexander Pushkin
were married for 7 years (from 1830 to 1837).
After many hesitations, Natalya eventually accepted Pushkin\'s proposal in April 1830, but not before she received assurances that the tsarist government had no intentions to persecute the libertine poet. They were officially engaged on 6 May 1830, and sent out wedding invitations. Due to the outbreak of cholera and other circumstances, the wedding was delayed for a year. The ceremony took place on 18 February 1831 (Old Style) in the Great Ascension Church on Bolshaya Nikitskaya Street in Moscow.
During the six years of their marriage, Natalya Pushkina gave birth to four children. As the family resided for prolonged periods in the country, while Pushkin frequented the capitals, such a lifestyle could not but occasion a sizable correspondence between the spouses. Seventy-eight letters of Pushkin to his wife are extant, frequently written in a light-hearted tone with touches of ribaldry, yet there are none of what may be called love letters among these. It is believed that the poet dedicated several poems to her, including \"Madonna\" (1830). As for her own correspondence with Pushkin, it was lost with the exception of one letter, written together with her mother Natalya Ivanovna.