Ace of Hearts Karma Card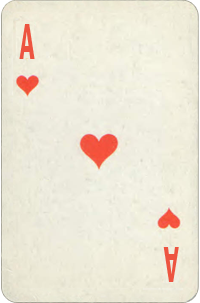 The Ace of Hearts stands for emotions, desire for affection. It is a first step out in the creation of the universe. We are creative in love, and according to the plan, love supposes to be our fundamental motivation. Love is about giving, sharing and accepting. Since we shifted our mental concept to the plane of values, we don't seem to find love in its purest sense until we see what it can do for us. This karmic influence brings a deep need for one love that satisfies the self, but one can never fall in its grace without questioning and doubt. Perhaps it is the subconscious realization of this great illusion that can make life a tragic thing and causes the eternal quest for the perfect love and the doubt of it when found.
It's really important that you feel good. Because this feeling good is what goes out as a signal into the universe and starts to attract more of itself to you. So the more you can feel good, the more you will attract the things that help you feel good and that will keep bringing you up higher and higher.
- Joe Vitale
Your Destiny Birth Card