Ace of Hearts Karma Cousin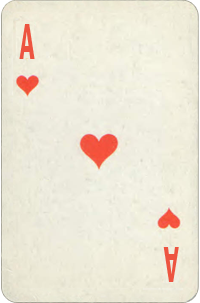 Your rightful place is found through higher guidance and the cultivation of intuition. Emotions play a large part, and it becomes a race between love and money. One - not both - must win first place, so if love becomes absorbing, money flies out of the window - and vice versa. You possess powerful emotions and a strong need for love combine well to ensure you are often more than willing to give others the goodness of your heart.
It's really important that you feel good. Because this feeling good is what goes out as a signal into the universe and starts to attract more of itself to you. So the more you can feel good, the more you will attract the things that help you feel good and that will keep bringing you up higher and higher.
- Joe Vitale
Your Destiny Birth Card