Queen of Hearts Karma Cousin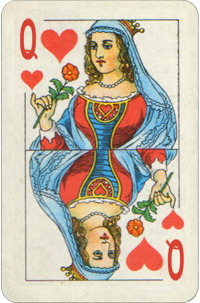 The Queen of Hearts underscores generous nature and pure intentions. It offers magnetism, beauty, affection, motherly instinct. Mysterious, alluring nature of this high Heart card bestows the ability to attract an opposite gender. When it comes to social life, the Ten of Spades is inescapably charming, generous in providing emotional comfort and sound advice in love matters. They are experts on human relationships and approach people who come to them for help with care and understanding. There is some secrecy about them conjoined with an ability to control their emotions, hide their thoughts and motives, but compassionate quality creates an enlightening, friendly personality that promotes honesty, faithfulness, shiny nobility, comforting and hospitable appeal. They can listen and understand people, tolerant of other's customs, traditions, and ideals. This card can give talents along artistic lines. Dramatic and intense, capable of deep devotion, psychic, they can become a center of any social circle.
Love is the only thing you can really give in all this world. When you give love, you give everything.
- Theodore Dreiser
Your Destiny Birth Card