Queen of Hearts Karma Card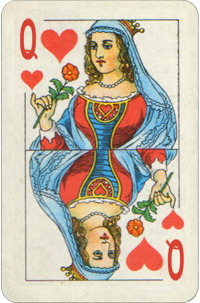 The Royal Queen of Hearts signifies your inner sense of the dramatic, emotional power, and need for self-expression. When you combine your cerebral talents with hard work and creativity, you can unlock this outstanding potential and achieve success. The Queen of Hearts can also be a distracting and demoralizing influence. Negatively expressed, it supports a tendency to waste time and emotional energies on frivolity and self-indulgence.
Love is the only thing you can really give in all this world. When you give love, you give everything.
- Theodore Dreiser
Your Destiny Birth Card