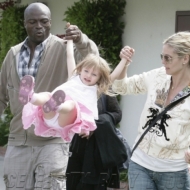 Seal
and
Heidi Klum
were married for 8 years (from 2004 to 2012). Seal and Heidi met in 2003. Heidi says "I met him in a hotel lobby in New York City and he came in just from the gym and I was sitting there and I was, like, wow ... "
Seal proposed in 2004. Heidi: "Seal took me by helicopter. He had an igloo built there, and they'd brought up everything: a bed with sheets inside the igloo, rose petals everywhere, candles. Very, very romantic! There was food and champagne, and then the helicopter left. It was a little scary, too, because you're so cut off from the world. No trees, nothing –- it was hardcore. But I was ecstatic."
Heidi and Seal renew their wedding vows each year on the beach of Costa Careyes, Mexico.
Seal: "Each year, Heidi and I get remarried. It's a great party, but for about an hour, we go off on our own down to a private beach. We sit there with the kids and read vows to each other as the sun sets. It's a very special moment to us."