Eight of Spades Karma Cousin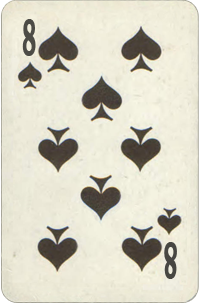 The Eight of Spades represents the power to acquire true wisdom and to live under the God's laws. As a Karma cousin, it indicated that the King Of Clubs enjoys power and can be resolute and authoritative with strong convictions. The Eight of Spades gives a drive for security, accomplishment, and material success. Being proud and capable with good organizational skills, the Kings of Clubs are often taking over high management positions, displaying determination and unshakable certainty. Although very competent, there is a necessity to develop patience and tolerance through being understanding and taking other's people's weaknesses into consideration before passing judgement.
You know you're in love when you can't fall asleep because reality is finally better than your dreams.
- Dr Seuss
Your Destiny Birth Card