Four Of Wands Tarot Card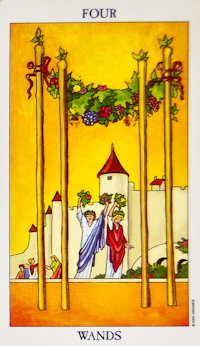 Four of Wands. The planted living wands show perfected work. Things have come to fruition. The red-roofed towers show desires realized. The two figures denote the union of two minds, and the garland of flowers and fruits is raised high on the wands, meaning prize work accomplished and hung aloft in triumph.
---
Tarot cards came long after the playing cards deck, in 15th century. While playing cards were used in games, Tarot were designed for Psychic readings only. Each Tarot card tells a story about you and your future and past. When you are reading tarot cards, you are connecting with universe on a deep, psychic level, where shadows fall in the dark.