Queen Of Pentacles Tarot Card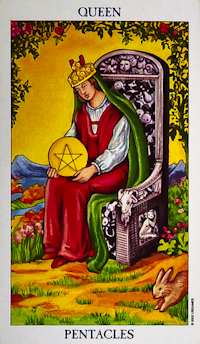 The Queen is dressed in an elegant but conservative costume, which befits her character. Her throne is decorated with symbols of fruitfulness. The goat, symbol of Capricorn, is carved into the arms of the throne. Flowers are in bloom all around her. The hair is also a symbol of fertility and productiveness. Cherubs always indicate the protection of divine beings, who radiate love, peace, happiness and contentment.
---
Tarot cards came long after the playing cards deck, in 15th century. While playing cards were used in games, Tarot were designed for Psychic readings only. Each Tarot card tells a story about you and your future and past. When you are reading tarot cards, you are connecting with universe on a deep, psychic level, where shadows fall in the dark.