Six Of Wands Tarot Card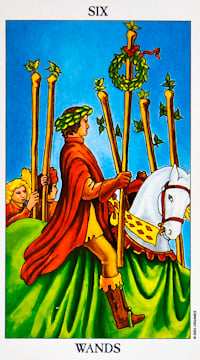 Horseman crowned with laurel and bore a laurel wreath on his wand is riding horseback triumphantly while footmen with wands walk by his side. This is a typical picture of victory. The inner meaning is mastery over the animal nature and controlled spiritual energy. He is a warrior for right, duty and responsibility.
---
Tarot cards came long after the playing cards deck, in 15th century. While playing cards were used in games, Tarot were designed for Psychic readings only. Each Tarot card tells a story about you and your future and past. When you are reading tarot cards, you are connecting with universe on a deep, psychic level, where shadows fall in the dark.