Page Of Cups Tarot Card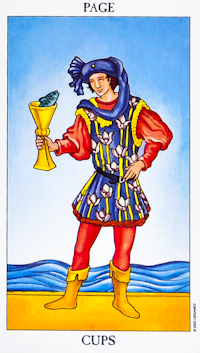 Page of Cups. This quiet figure is beautifully dressed in the lotus decorated costume of red and blue which indicates that the conscious and subconscious mind have made the wearer sure of eternal life. The lotus is a self-renewing plant, which contains both male and female elements. The Page's cup contains the fish, symbol of the divine; therefore, love and passion have turned to love and compassion for humanity.
---
Tarot cards came long after the playing cards deck, in 15th century. While playing cards were used in games, Tarot were designed for Psychic readings only. Each Tarot card tells a story about you and your future and past. When you are reading tarot cards, you are connecting with universe on a deep, psychic level, where shadows fall in the dark.