Seven of Hearts Karma Card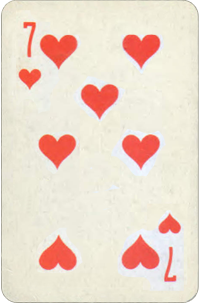 The Seven Of Hearts is the card of "ideal" love. As a Karma card, it requires to keep an unattached attitude in love and usually presents itself in the series of lessons, when the Ace of Spade's person learns to lose beloved ones and find the enlightenment in the spiritual world of universal love. It is usually tricky on the material level and can produce the series of emotional disappointments starting early in life. It is crucial to understand the high call of the Ace of Spades - the key to all mysteries in the world, which holds great promise of eternal life.
Success is a lousy teacher. It seduces smart people into thinking they can't lose.
- Bill Gates
Your Destiny Birth Card