Three Of Cups Tarot Card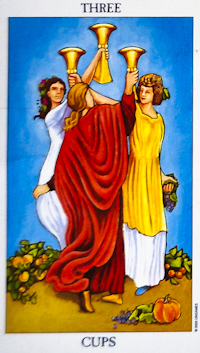 Three of Cups. This key depicts the celebration of the bounty and good fortune. Three maidens jubilantly toast the happy outcome of their work-the abundant harvest pictured around them.
---
Tarot cards came long after the playing cards deck, in 15th century. While playing cards were used in games, Tarot were designed for Psychic readings only. Each Tarot card tells a story about you and your future and past. When you are reading tarot cards, you are connecting with universe on a deep, psychic level, where shadows fall in the dark.