Hierophant Tarot Card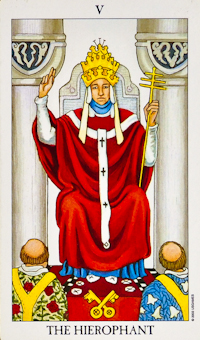 The Hierophant represents our inner teacher, our inner hearing, our intuition. Sages have always said that release from all limitation comes to those who awaken their inner awareness. True inner hearing does not involve spirits, clairvoyance and visions from the astral plane. Rather, true intuition is based upon the number 4 and key 4, the Emperor. When the conscious mind gathers all the facts and feeds them into the subconscious mind, the subconscious acts upon this information and, in a flash of intuition, sends the correct analysis back to the conscious mind. This is true intuition, based upon reason.
The Hierophant's crown is triple: the row of five trefoils represents the five senses; the row of .seven trefoils symbolizes the seven centers in the body and the seven original planets; the row of three trefoils stands for the three states of consciousness-the super-conscious, the conscious and the sub-conscious. His staff has the same symbolic meaning as the knob on the top: both indicate the Source, God. The ornaments attached to his crown fall just behind his ears to emphasize hearing. The crown and staff represent the four worlds-archetypal (knob), creative, formative and material.
The pale gray background represents wisdom because gray is a mixture of equal parts of black and white. Thus, gray stands for perfect balance that is the practical aspect of wisdom.
At the Hierophant's feet, the crossed keys symbolize the super-conscious, which is the key to heaven, and the subconscious, which is the key to earth (or hell, if one makes it so). The robes of the two kneeling priests represented desire (roses) and purified desire (lilies), both of which must be sublimated to the conscious mind. This card contains ten crosses representing the spiritual numbers 1 to 10, the ten aspects of the Tree of Life and the ten trees in The Empress's garden.
---
Tarot cards came long after the playing cards deck, in 15th century. While playing cards were used in games, Tarot were designed for Psychic readings only. Each Tarot card tells a story about you and your future and past. When you are reading tarot cards, you are connecting with universe on a deep, psychic level, where shadows fall in the dark.