Five Of Pentacles Tarot Card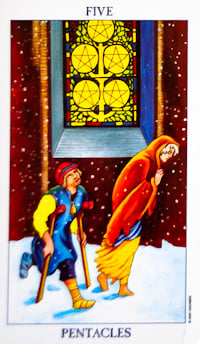 The two figures in the picture represent physical and mental poverty. They serve as a warning to seek the light within which is indicated by a lighted window. The card is meant to show that inner riches far outshine any material fortunes. The message here is: turn to your inner powers for guidance and avoid the poverty of consciousness to be found if attention is on the outer world alone.
---
Tarot cards came long after the playing cards deck, in 15th century. While playing cards were used in games, Tarot were designed for Psychic readings only. Each Tarot card tells a story about you and your future and past. When you are reading tarot cards, you are connecting with universe on a deep, psychic level, where shadows fall in the dark.