Two Of Pentacles Tarot Card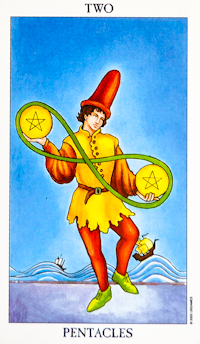 The person pictured is a clever juggler. His material is money. The horizontal 8, the cosmic lemniscate, means infinity. Here it signifies a desire for balanced and continuous activity rather than struggle and strain in attaining ambitions. This is an ongoing process. The ships in the background on the crests of the waves seem to be skillfully piloted, denoting Prosperous ventures or success in commerce. The figure's outer Sacrament is made of leather which shows a desire for lasting qualities, dominance and good use of the animal and lower kingdoms.
---
Tarot cards came long after the playing cards deck, in 15th century. While playing cards were used in games, Tarot were designed for Psychic readings only. Each Tarot card tells a story about you and your future and past. When you are reading tarot cards, you are connecting with universe on a deep, psychic level, where shadows fall in the dark.