Six Of Cups Tarot Card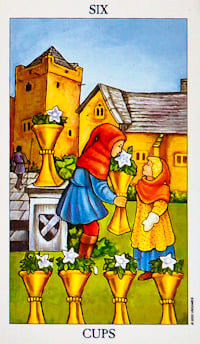 Six of Cups. The six cups are brimming with flowers, showing fruition. The five-pointed-star flower indicates human emotions purified and transmuted into compassionate love. The childish male figure in the Fool's cap recalls key 0, or Uranus, which, exalted in Scorpio, here implies that the highest gift is purified love. The cross, commonly called Saint Andrew's cross, is the cross of humility. The significance is that while we "become as little children" (Matthew 18:3) or believe as little children on the earthly plane, we manifest our progress.
---
Tarot cards came long after the playing cards deck, in 15th century. While playing cards were used in games, Tarot were designed for Psychic readings only. Each Tarot card tells a story about you and your future and past. When you are reading tarot cards, you are connecting with universe on a deep, psychic level, where shadows fall in the dark.