Four Of Swords Tarot Card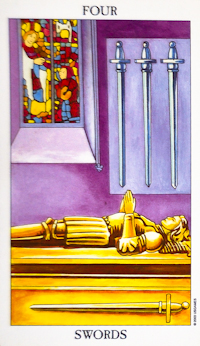 The figure has assumed the proper position for a rest, inferring that rest from anxiety and strain has been earned. The swords are put away; three hang on the wall, and one is placed lengthwise along the couch. This shows that, if need be, action would still be taken to preserve peace. This is a card of peace and quiet, not death. The window depicts outer activity. A man is shown kneeling before a woman, symbolizing that the conscious mind (male) is still a slave to the subconscious (female). To the resting figure all is serene; the sword of discrimination has been used and put away.
---
Tarot cards came long after the playing cards deck, in 15th century. While playing cards were used in games, Tarot were designed for Psychic readings only. Each Tarot card tells a story about you and your future and past. When you are reading tarot cards, you are connecting with universe on a deep, psychic level, where shadows fall in the dark.