King of Diamonds Karma Cousin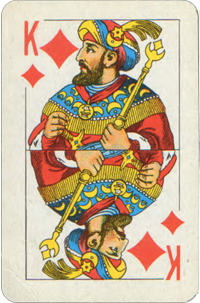 The King of Diamonds as a Karma Cousin gives a business acumen and the impetus to attain your goals and achieve prosperity. It can motivate you to take a leadership position but don't be bossy as it will undermine your authority. Men in Diamond's suit can help you to start your own business and invest in your ideas.
Every man is said to have his peculiar ambition. Whether it be true or not, I can say for one that I have no other so great as that of being truly esteemed of my fellow men, by rendering myself worthy of their esteem.
- Abraham Lincoln
Your Destiny Birth Card