Nicole Kidman & Tom Cruise
Nicole Kidman: June 20, 1967
Nicole Kidman

Commitment Index: 2.5

Leadership:
Birth Card

Ruler

Karma Card

Karma Cousin
Tom Cruise: July 3, 1962
Tom Cruise

Commitment Index: 3.5

Leadership:

Birth Card

Ruler

Karma Card

Karma Cousin
Total Connections Found: 25
Attraction index: 1.99
Intensity index: 1.46
Compatibility: 1.62
Attraction & Intensity
Attraction Index
tells how much attraction you experience in your communications.
Intensity Index
represents challenges. Further investigation of links between two of you tells what areas of your life are affected. It might be associated with an intense sexual life, desire to dominate one another, criticism or deep contradictions in beliefs and lifestyles. It may come as a surprise to have long-term relationships with high-intensity index, but it can happen.
People who have more than 15 links found between them have their scores higher than someone with five connections or less. These scores are interesting mostly from a step-point of their relatedness. Relationships with the higher Attraction and the lower Intensity score have more chances to last longer and bring positive energy and mutual understanding. The prevalence of intense connections between people usually leads to break-ups and challenging experiences. If you research your personal relationships in depth, you will discover your very own Attraction and Intensity Scores that you feels comfortable to you.
Compatibility Chart
What Is the Ten of Clubs Birth Card Mean?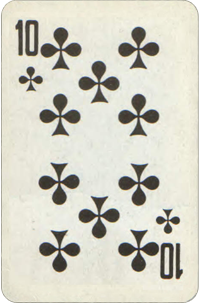 The of Clubs are a clear-sighted intellectuals with the ability to assess circumstances easily and accurately. They are ambitious, independent and royal, proud and socially aware. Social status and recognition is important to them, and they have all means to achieve anything they want in life. Their success lies in the mental field. When their goals are high, their needs are supplied from the limitless substance, and there is no lack of supply. They are given power through higher wisdom. Once they unfold their intuitive potential, choices in life are made without a doubt, and success follows naturally. They are drawn toward intellectually developed friends, and extremely selective in their choice of potential mates. This is a royal card. They run for a higher score, and they expect their partners to match their expectations.
What Is the Queen of Diamonds Birth Card Mean?
The royal Queen of Diamonds stands for a testing incarnatio. These people are endowed with rulership and control. They are agents of wisdom and as soon as they realize their hidden potential, success is assured. and the door to unlimited supply of resources opens up. Their personal considerations become secondary to the wellness of human kind. They understand that the true treasure lies in heaven, and they contribute their many gifts and creative talents for the betterment of the world. These people are natural leaders, nurturing, responsible and cautious of people's needs and concerns. They are diligent and dependable, strong-willed and determined. Their restless mind brings many opportunities for travel and attracts variety and changes. Artistic and intuitive, these are people of many talents. They want to live well and have an expensive taste. They are not looking for appearances and like to be associated with highly intellectual and well-informed people. They are willing to help others in need and will make sacrifices for their family and children.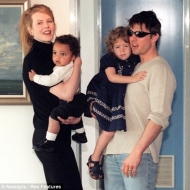 Nicole Kidman
and
Tom Cruise
were married for 9 years (from 1989 to 1998). Nicole Kidman and Tom Cruise met Cruise in December 1989 on the set of their 1990 movie Days of Thunder. They separated on 25 May 1998. Kidman was three months pregnant at the time; shortly afterward, she suffered a miscarriage. Cruise filed for divorce in February 2001, and the marriage was dissolved that year, with Cruise citing irreconcilable differences. In Marie Claire, Kidman said she had an ectopic pregnancy early in their marriage. In the June 2006 Ladies' Home Journal, she said she still loved Cruise: "He was huge; still is. To me, he was just Tom, but to everybody else, he is huge. But he was lovely to me and I loved him. I still love him." In addition, she has expressed shock about their divorce
Create Your Own Celebrity Report!
Connections: Life vs. Spiritual
The higher percentage of Spiritual Connections (connections from a spiritual spread) means that you have share previous life experiences together. When the percentage of your Mundane Connections is significantly higher, you have met someone new. Spiritual connections benefit our inner selves stronger than life connections, and whatever critical and challenging issues they may represent, your experience will be smoother and less traumatic.
Forward, Reverse and Mutual Connections
You can see from the chart who is more affected by your interaction. The one with a higher percentage of forward connections is investing more energy and thoughts into relationship. If you have a higher percentage of reverse connections, your partner pays more attention to you and you are perceiving his or her feelings and emotions. Mutual connections work in both directions. Having high mutual connection's percentage means you have very strong bond between two of you and are interested in each other in the same degree.
Create your own Love compatibility report. What you see in this example is just a little part of information you will get with your order. But you can see how the story starts, and sometimes you can see how it ends. Fate? Destiny? Would your rather go with FREE WILL? Or maybe Free Will comes from True Knowledge?