What Is the Queen of Clubs Birth Card Mean?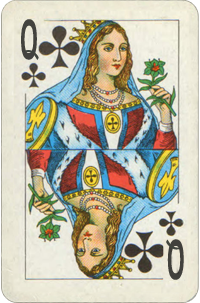 The royal Queen of Clubs brings special mission to people born under its influence. These people know that they are always in direct contact with the higher forces of Intelligence, and their work is to transcend this light onto the lives of millions. They are highly intuitive and have a good understanding of human nature. Their organizational ability puts them in charge of others. They are practical and logical intellectuals, strong of will and determination. Endowed with an exceptional business sense, they are very successful in making money. They want complete freedom of action and will not tolerate any interference. They are intolerant of ignorance and mental laziness in others, but there is no lack of sympathy or firmness in handling their tempers. Very selective about their partners, they look for someone intelligent, open-minded and well-educated.
What Is the Five of Spades Birth Card Mean?
Five of Spades are loyal, reliable and passionate, spiritually restless, well-liked and often popular. When they fall in love, they love deeply and permanently. They are willing to make any sacrifices for their family and children. They believe in goodness of people nature, even life proves them wrong over and over again. Those who come on top of circumstances, manage to maintain the child-like attitude, enjoying happy relationships, success and security of later years. They have a special mission in life. They are adventurers and investigators of spiritual realm, seekers of higher truth. Aspiration, impersonal love, and the determined quest for divine wisdom bring peace and security. They like to live comfortably and strive to own property. Sometimes they own two houses at once, as well as luxury cars, boats, etc. anything that give them ability to travel. Journeys to foreign countries and international contacts are highly beneficial for them. They are intuitive and often develop strong attraction to religion, occult and psychic.