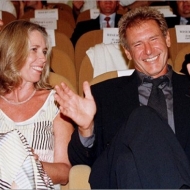 Harrison Ford
and
Melissa Mathison
were married for 21 years (from 1983 to 2004). They have two children: Malcolm Carswell Ford (born March 10, 1987) and Georgia Ford (born June 30, 1990).
After his first divorce from Marquardt, Ford married Mathison in March 1983 in a simple 15-minute ceremony at the Santa Monica Courthouse. "It was just part of the continuum of the relationship," he later said. "I don't know if I ever proposed to her." Which is not to say he was never romantic: Over the years he never missed a birthday or anniversary and has been known to stage surprise candlelit dinners. "I have a romantic vision of life," he said. "But I have a degree of cynicism and experience that mitigates against my romantic point of view."
And although Ford and Mathison have much in common both cherish their children, their privacy and their work their marriage, friends say, was as imperfect as anyone's. "He's no picnic," Ford's Star Wars costar Carrie Fisher told writer Abele of her longtime pal. "I mean, as much as it might be the fantasy for a lot of people to be the wife of that, it's tricky. And it takes work."