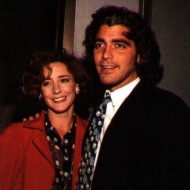 George Clooney
and
Talia Balsam
were married for 4 years (from 1989 to 1993). Just months after his breakup with Kelly Preston, Clooney and actress Talia Balsam head to Vegas in a Winnebago and get married. The couple, who dated a short time in 1984 before getting hitched, would divorce three years later. "I probably – definitely – wasn't someone who should have been married at that point," Clooney tells Vanity Fair. "I just don't feel like I gave Talia a fair shot."
Talia Balsam: "Married Clooney in 1989. Divorced gorgeous George in 1992. "
Balsam was 30 when the pair married. Clooney was 28.
About his marriage to Talia Balsam, Clooney said,
"I was 28, and in Kentucky when you get to be that age, you're supposed to get married, and you know exactly what the marriage should be like. I had this image of marriage. When ours didn't exactly fit that image, I thought it didn't work. I wasn't very bright about it. We had to reconstruct our marriage a little bit, and I wasn't willing to do that. I walked away. I could have been scared. Maybe I wasn't ready to be married. It was my fault all the way down the line."
After his divorce with Talia, George Clooney has said that he will never marry again.