Ben Affleck & Jennifer Garner
Ben Affleck: August 15, 1972
Ben Affleck

Commitment Index: 6

Leadership:

Birth Card

Karma Card
Karma Cousin
Jennifer Garner: April 17, 1972
Jennifer Garner

Commitment Index: 7.2

Leadership:

Birth Card
Ruler

Karma Card

Karma Cousin
Total Connections Found: 20
Attraction index: 2.12
Intensity index: 1.29
Compatibility: 0.65
Attraction & Intensity
Attraction Index
tells how much attraction you experience in your communications.
Intensity Index
represents challenges. Further investigation of links between two of you tells what areas of your life are affected. It might be associated with an intense sexual life, desire to dominate one another, criticism or deep contradictions in beliefs and lifestyles. It may come as a surprise to have long-term relationships with high-intensity index, but it can happen.
People who have more than 15 links found between them have their scores higher than someone with five connections or less. These scores are interesting mostly from a step-point of their relatedness. Relationships with the higher Attraction and the lower Intensity score have more chances to last longer and bring positive energy and mutual understanding. The prevalence of intense connections between people usually leads to break-ups and challenging experiences. If you research your personal relationships in depth, you will discover your very own Attraction and Intensity Scores that you feels comfortable to you.
Compatibility Chart
What Is the Jack of Clubs Birth Card Mean?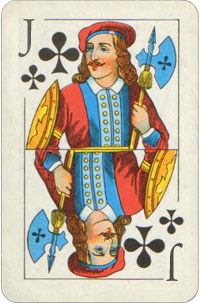 The Jack of Clubs have an extraordinary gift of knowledge. These are unusual, clear-sighted, highly intelligent and intuitive people. They are the people of the future, and it sets them apart from anyone else. They are creative, energetic, productive and mentally brilliant. They can put their knowledge to work for them, or they can live by their wits. Success along mental lines is guaranteed. Mentality is their secure place and their weapon against all obstacles. They have great love from home, and their need for love is absorbing. Benefits are always derived from a willingness to assume responsibility. They have a good heart, and are giving, loving and friendly.
What Is the Four of Diamonds Birth Card Mean?
Four of Diamonds is a symbol of material stability, and when they are willing work hard to achieve tangible results, success follows them naturally. They have a wonderful potential to secure their finances and to stabilize their environment. When their potential is used properly, these people are the most hard-working, energetic, honorable and confident. They have developed an orderly lifestyle. They are methodical and careful with money and know how to invest wisely. They can always make a sufficient income. They have power to overcome their own restlessness and live happy satisfying life. Inwardly they dislike changes and put significant amount of efforts to stay with work or in relationship as long as they can. They are charming and attractive and can use this quality to become successful in business and sales. Security and protection are extremely important to them, and emotional considerations are tight to these principles.
Ben Affleck
and
Jennifer Garner
are married since 2005. Since Jennifer Garner relationship with Affleck, first as girlfriend and then as wife, Garner has been a tabloid staple. "Ben taught me that you cannot read that stuff, that it's poison," she said in 2009. On Garner's 33rd birthday, Affleck proposed to her with a 4.5 carats (900 mg) diamond ring from Harry Winston. Affleck married Garner, who was three months pregnant at the time, on June 29, 2005 in a private ceremony in the Caribbean, officiated by family friend and Garner's Alias co-star, Victor Garber, at the Parrot Cay resort on the Turks and Caicos Islands. The couple have three children: daughters Violet Anne Affleck (born December 1, 2005) Seraphina Rose Elizabeth Affleck (born January 6, 2009), and son Samuel Garner Affleck (born February 27, 2012).
Create Your Own Celebrity Report!
Connections: Life vs. Spiritual
The higher percentage of Spiritual Connections (connections from a spiritual spread) means that you have share previous life experiences together. When the percentage of your Mundane Connections is significantly higher, you have met someone new. Spiritual connections benefit our inner selves stronger than life connections, and whatever critical and challenging issues they may represent, your experience will be smoother and less traumatic.
Forward, Reverse and Mutual Connections
You can see from the chart who is more affected by your interaction. The one with a higher percentage of forward connections is investing more energy and thoughts into relationship. If you have a higher percentage of reverse connections, your partner pays more attention to you and you are perceiving his or her feelings and emotions. Mutual connections work in both directions. Having high mutual connection's percentage means you have very strong bond between two of you and are interested in each other in the same degree.
Create your own Love compatibility report. What you see in this example is just a little part of information you will get with your order. But you can see how the story starts, and sometimes you can see how it ends. Fate? Destiny? Would your rather go with FREE WILL? Or maybe Free Will comes from True Knowledge?