Ten of Diamonds Karma Cousin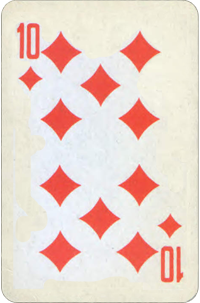 The Ten of Diamonds as the Karma Cousin signifies that when enterprising and success-oriented you are capable of achieving outstanding results in life. Although you have the power of attainment, you also come to learn that money or status do not bring you complete satisfaction. For the best rewards, it is essential that you fulfill your high ideas and find outlets that can bring happiness into other people's lives.
Tis a great confidence in a friend to tell him your faults; greater to tell him his.
- Benjamin Franklin
Your Destiny Birth Card