Monday, February 18 2019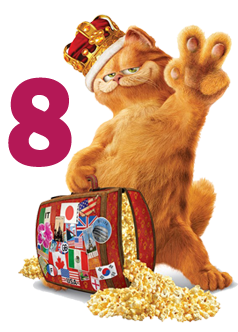 53/8 - Executive Power
Today is a great day to organize your forces. Find out just where you stand in your business and finances. You have a great opportunity for enlargement and do not doubt your ability to "cash in" on it. If you have already had success, build another on top of it. Consider your chances and more forward. Realize your creative power for advancement and branch out with it. Do not speculate or fly off at tangents, but plant your feet firmly on the ground and draw all the magnetic earth-vibrations into everything you do. Help yourself in helping someone less strong and powerful. Keep your aim in mind. Use the force for material gain and advancement, in order to increase and enlarge your field of usefulness. Drive yourself and your affairs with confidence in a successful outcome. This is the strong arm of the material world. This is your Power Day.
After the spiritual housecleaning of yesterday, you are ready to turn your attention to purely material affairs. You realize that there is an atmosphere of worldly power and financial gain about you. Your success is in your hands, provided you do not confuse ends and means. You are not dependent upon others but stand upon your own feet and attract their confidence by your strength. You know that money, in itself, is only a stepping-stone, and you have the clear sense and judgment to want to accumulate it for the power-for-good its possession will bring you. You want to help others as well as yourself, partly because you want to live on the constructive side and partly because have the intelligence to know that, of all the existing vibrations, it is the most elusive when you think only for yourself. Being the most practical, you do not expect of it much inspiration or uplift, but you are able to endow it with those qualities that you draw from your own store, and in that way increase its power of attraction toward you. You know, too, that if you have a thing within your grasp and allow yourself to become hard and domineering, it cannot and will not remain with you, but will surely turn against you and refuse to lend a hand in your affairs. You feel the power and construction, multiplied by the kindness and beneficence. You understand the strength and sufficiency, spiritual cleanness and compassion, joy of life and taking the full responsibility, and taken all in all, you realize that today you are a master-mind, the true executive, dealing out justice and mercy with scientific understanding.
Daily Rhythms
75%

100%

75%

96%

89%

71%

Feb, 13
Feb, 14
Feb, 15
Feb, 16
Feb, 17
Feb, 18

Excellent

Good

Average
Less than average
Be careful
Your Daily Cards

Venus Day
Venus, the goddess of love, represents female relationships and social interactions at every level. It rules our social attitudes and behavior, along with our aesthetic tastes and artistic inclinations. Venus, queen of taste and arts, represents principles of harmony, justice and equilibrium. Our card in Venus shows where our values lie and how we set our priorities. Venus governs our desires. Your card in Venus describes our inclinations with regard to romance, marriage and other partnerships, our capacity for humor and the pursuit of pleasure in all its forms.
Pluto Card

Result
You may feel not well appreciated, or experience a crucifixion in emotions. You will have to decide, through weighing, selecting and discarding, where your real values lie. Maintain a balance between the emotional and practical factors and make your plans accordingly. By the end of a day, you feel generous and loving. You want to share the good things with those around you. Horizons broaden, and as they do, new relationships form. Perhaps a new love is among them.
| | |
| --- | --- |
| | Uniform and unchanging friendship. Knowledge and surroundings remain the same. Lack of news, Monotony of life. |
Q is your Venus Card. Home, Love, Comfort.

Emotional activity. Romantic influence. Love, marriage, dreams, visions, rewards. Disposition of kindness and self-sacrifice.
| | |
| --- | --- |
| | Indecision relating to money and a woman. Regarding some friend and money matter. Choice between two propositions. |
| | |
| --- | --- |
| | Illness caused by overdoing, late hours or excitement. Love, trouble or illness of a dear friend. |
10 is your Mars Card. Action, Agressiveness, Impulsiveness.

Wealthy marriage. Wealthy acquaintance. Success in friends and money. Kind help of a friend.
| | |
| --- | --- |
| | Success and happiness in work, home life and general surroundings. Indications especially strong for women. Success in business where females are largely employed. |
Mercury

00:00-3:25
Venus

3:25-6:51
Mars

6:51-10:17
Jupiter

10:17-13:42
Saturn

13:42-17:08
Uranus
17:08-20:34
Neptune
20:34-24:00
Universal Day 22/4
Steadier market. Detail. Attention to schedule. It might also be an increase of illness and death. There may be evidences of anarchy (strikes, demonstration, rebellion).
Good Day For
This is a good day for making deposits in checking accounts.