Owen Wilson & Kate Hudson
Owen Wilson: November 18, 1968
Owen Wilson

Commitment Index: 5.4

Leadership:

Birth Card

Ruler

Ruler

Karma Card

Karma Cousin
Kate Hudson: April 19, 1979
Kate Hudson

Commitment Index: 5.7

Leadership:

Birth Card

Ruler
Karma Card

Karma Cousin
Total Connections Found: 28
Attraction index: 2.68
Intensity index: 1.54
Compatibility: 2.85
Attraction & Intensity
Attraction Index
tells how much attraction you experience in your communications.
Intensity Index
represents challenges. Further investigation of links between two of you tells what areas of your life are affected. It might be associated with an intense sexual life, desire to dominate one another, criticism or deep contradictions in beliefs and lifestyles. It may come as a surprise to have long-term relationships with high-intensity index, but it can happen.
People who have more than 15 links found between them have their scores higher than someone with five connections or less. These scores are interesting mostly from a step-point of their relatedness. Relationships with the higher Attraction and the lower Intensity score have more chances to last longer and bring positive energy and mutual understanding. The prevalence of intense connections between people usually leads to break-ups and challenging experiences. If you research your personal relationships in depth, you will discover your very own Attraction and Intensity Scores that you feels comfortable to you.
Compatibility Chart
What Is the Two of Clubs Birth Card Mean?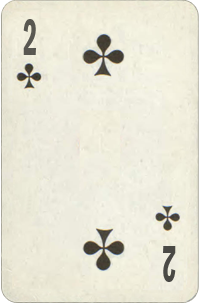 Versatile, clever, adaptable and quick-witted, Two of Clubs are never lacking for an answer and very positive in their own opinions. They are easy-going, transient partners. They are self-confident and attracted to people of good financial standing. They are persevering and strong willed and always get what they go after. They can make a fortune through effort, will and creativity. They must learn the fine art of cooperation, since they like to have the last word. Highly developed intuition and the ability to spot weaknesses in other people, is a big plus in any kind of business. They can work very hard, and have great administrative and organizational talent. In love, they are generous, restless and creative.
What Is the Two of Diamonds Birth Card Mean?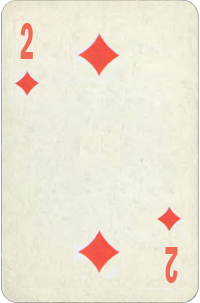 Two of Diamonds are self-starters. They are ambitious, practical and know how to use and keep their contacts. They are creative, disciplined, action-oriented, competitive, with great communication skills, passionate about their work, ethical in work environment, confident and determined. They know how to jingle facts and use everything good or bad that comes into their focus to their own advantage. They have an intuition that comes very handy in the world of business. Two of Diamonds have one of the most blessed and successful life paths. There is no limit to what they can achieve. Their ideals of a perfect partner are high. They are responsible, reliable and disciplined. Once married, they adhere to their spouses. They love children and make good and responsible parents.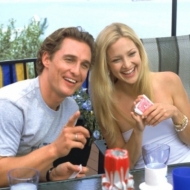 Owen Wilson
and
Kate Hudson
were dating for about one year. Owen Wilson and Kate Hudson dated in 2006, but the pair broke up and it was widely reported that he allegedly tried to commit suicide in 2007 after the relationship with Hudson ended. In 2008, it was reported the pair were to marry. However the two would again break up and make up a number of times over 2008 and 2009. Following the suicide attempt, Wilson has participated in limited publicity and promotion for his films.
Create Your Own Celebrity Report!
Connections: Life vs. Spiritual
The higher percentage of Spiritual Connections (connections from a spiritual spread) means that you have share previous life experiences together. When the percentage of your Mundane Connections is significantly higher, you have met someone new. Spiritual connections benefit our inner selves stronger than life connections, and whatever critical and challenging issues they may represent, your experience will be smoother and less traumatic.
Forward, Reverse and Mutual Connections
You can see from the chart who is more affected by your interaction. The one with a higher percentage of forward connections is investing more energy and thoughts into relationship. If you have a higher percentage of reverse connections, your partner pays more attention to you and you are perceiving his or her feelings and emotions. Mutual connections work in both directions. Having high mutual connection's percentage means you have very strong bond between two of you and are interested in each other in the same degree.
Create your own Love compatibility report. What you see in this example is just a little part of information you will get with your order. But you can see how the story starts, and sometimes you can see how it ends. Fate? Destiny? Would your rather go with FREE WILL? Or maybe Free Will comes from True Knowledge?