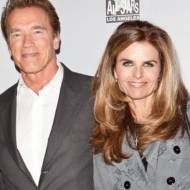 Maria Shriver
and
Arnold Schwarzenegger
are married since 1986. The Jack of Hearts is the card of Jesus Christ. It is fixed which means there are no karma cards. Arnold Schwarzenegger has been born on July 30 - Leo sign, which makes him truly unique (no ruling card). This is a reason why there aren't so many connections for these people. This birthday makes Arnold Schwarzenegger very unique Jack of Hearts - the most sacrificial and selfless, but also very fixed in his sets of morals and beliefs.
There aren't so much information about Arnold and Maria relationships, except some official quotes. But as you can see from the chart, there are no Mars connections that add sexuality into relationship, but also suggest fights and irritation. There are no benefits or illusions either, and very reasonable low impact of criticism, challenge and karmic lessons. Maria can make his life a "hell", that's for sure.
But look at the index of Love! It is really amazing. They share two unique connections of Mutual Love on both levels - mundane and spiritual. They have been together before and even the media have made huge scandal about recent break-up, I feel very comfortable to say that Love will help this couple to overcome temporary difficulties.