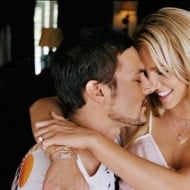 Kevin Federline
and
Britney Spears
were married for 3 years (from 2004 to 2007). In July 2004, Federline and Spears announced their engagement after three months of dating. The couple was married on September 18, 2004, in a nondenominational ceremony at a residence in Studio City, California, filing legal papers on October 6. The couple had their first son, Sean Preston Federline, on September 14, 2005. Just two days before Sean's first birthday, the couple had a second son, Jayden James Federline, who was born on September 12, 2006 in Los Angeles.
Spears filed for divorce from Federline on November 7, citing irreconcilable differences and asking for both physical and legal custody of their two children, with visitation rights for Federline. The following day, Federline filed a response to Spears's divorce petition, seeking physical and legal custody of their children.[21] According to a representative for Federline's lawyer, the divorce filing "caught Kevin totally by surprise." The couple reached a global settlement agreement in March 2007 and their divorce was finalized on July 30. Federline maintains a relationship with Spears's parents for the benefit of their children, and Spears's family have been photographed in and out of his home and babysitting the boys while Kevin was out of town.
On October 1, 2007, a court ruling granted Federline sole physical custody of his children, with legal custody to be decided. On the late evening of January 3, 2008, police were called to Spears's home after the singer reportedly refused to relinquish custody of her children to Federline and locked herself in a room with her younger son, Jayden. Spears was taken from her home on a stretcher and hospitalized at Cedars-Sinai Medical Center for appearing to be under the influence of an unknown substance. As a result of this, Federline was "awarded sole legal custody and sole physical custody of the minor children."
On July 26, 2008, court papers were filed stating Federline would retain sole legal and physical custody of the children while Spears would get visitation rights that would increase over time. In addition to this, Federline will receive $20,000 per month from Spears in child support as well as additional funds to cover any custody-related legal expenses