Ten of Clubs Karma Cousin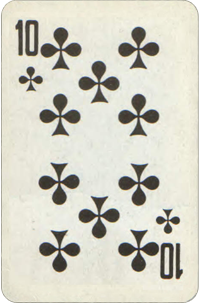 Both of you Karma Cards are in a suit of Knowledge (Clubs). It emphasizes your innate curiosity about the mysteries of life. The Ten of Clubs is the card of the teacher, leader. You can achieve great success in all types of intellectual pursuits or projects that fire your imagination. Its influence enables you to quickly grasp ideas, assimilate knowledge, and make sound judgments.
You need to equip yourself with education and training in the line in which you are the best fitted to express your abilities.

We're all going to die, all of us, what a circus! That alone should make us love each other but it doesn't. We are terrorized and flattened by trivialities, we are eaten up by nothing.
- Charles Bukowski
Your Destiny Birth Card