Six of Hearts Karma Cousin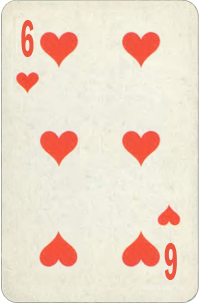 The Six of Hearts represents the law of love. As a Karma Cousin, it gives additional stability and dependability in personal relationships. It makes a person affectionate and emotional but seldom swept off by their feelings. Four Of Clubs tend to cling to tradition and principle, but not to the extent that interferes with progress. This is the reason the Four of Clubs is one of the Patriot cards. There is no departure for from fundamentals. They will fight for their interpretation of the law if they believe it is a real law to begin.
Look at every path closely and deliberately, then ask ourselves this crucial question: Does this path have a heart? If it does, then the path is good. If it doesn't then it is of no use to us.
- Carlos Castaneda
Your Destiny Birth Card