Jack of Clubs Karma Cousin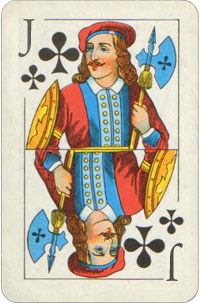 Your best partners in business are people born under the Jack of Clubs (of course if they are ready to pay their karmic debts). This card by itself gives you great mental power and creativity in intellectual fields and everything connected to publishing, writing, speaking, working with the public media. Another Jack card, the Jack of Clubs adds to your own youthful, boyish, and creative energy. The keyword for the Jack of Clubs is Intelligence. It is a Card of Memory. You may not have a photographic memory as the Jack of Clubs people, but your memory is probably your great asset. This card gives you a great talent with words. You have a great sense of humor and can always find right words to tell your side of the story, which will tremendously benefit you in public affairs and sales.
Books were my pass to personal freedom. I learned to read at age three, and soon discovered there was a whole world to conquer that went beyond our farm in Mississippi.
- Oprah Winfrey
Your Destiny Birth Card