Jack of Clubs Karma Card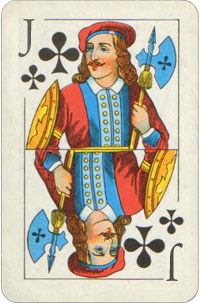 The best qualities of the Jack of Clubs is reason and logic. When Jack of Clubs is the karma card, the first step is in the right direction of mental attitude. Jack of Clubs is not always a clear thinker and may be quite indolent and "sloppy." This karma card gives a high memory capacity, but also the tendency to be untruthful.
For me, life happened, just as it does for anyone else. I have been supremely lucky in my life in that I have known great love, and of course I am the temporary custodian of some incredible and beautiful things. But I have never felt more alive than when I watched my children delight in something, never more alive than when I have watched a great artist perform, and never richer than when I have scored a big check to fight AIDS. Follow your passion, follow your heart, and the things you need will come.
- Elizabeth Taylor
Your Destiny Birth Card